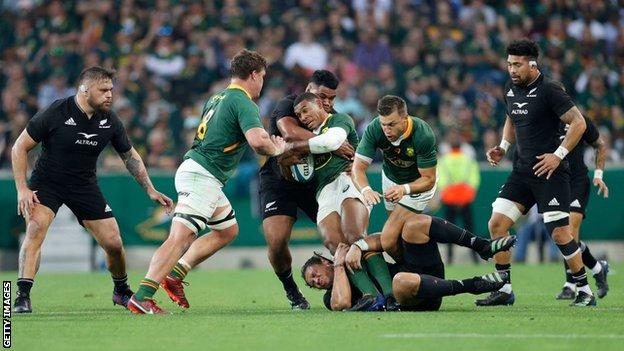 South Africa (10) 26
try:
Arence, Leroux
shortcoming:
Pollard 2
Pen:
Pollard 3
Lose the ball
Pollard
New Zealand (3) 10
try:
Frieze
shortcoming:
Monga
Pen:
J Barrett
New Zealand suffered their fifth defeat in their last six Tests as they lost 26-10 to South Africa in their Rugby Championship opener in Nelspruit.
Wing Kurt-Lee Arendse, who was later sent off, made the first attempt to cross.
Handre Pollard led the Springboks 19-3, but Shannon Frizell cut the deficit with a late attempt.
As the All Blacks fought for another, substitute Willie Leroux scored in the penultimate game of the game, with Pollard kicking the final switch.
The visitors were further disappointed after their first home Test series defeat in Ireland last month.
Arendse's first international attempt was just rewarded as the world champions dominated set pieces and collapsed from the start of the game despite losing scrum half Faf de Klerk with a header in the first minute.
Pollard's 16 points caused further damage to the All Blacks as the hosts clinched their biggest victory over their southern hemisphere rivals since 1928.
The only downside for the Boks was Arendse's red card in the 75th minute.
But Frieze's late reaction didn't dampen the party atmosphere at the Mbombela Stadium as Le Roux collected a loose ball to run away and register a second South African attempt.
New Zealand came into the game as underdogs, but their third consecutive defeat put more pressure on manager Ian Foster.
"Congratulations to South Africa, they are more clinical than us," Foster said. "They played well.
"Under the pressure, they played kickball and it put a lot of pressure on us.
"For us, I actually think it's an improvement over the last series. The lineup works well, the maul defends well, and our overall defense is pretty solid.
"In terms of offense, we may just have missed a little bit. We're going to have to see."
New Zealand conceded 11 penalties for the Boxers' seven, and Foster added: "It felt like we didn't get the friction of the green in the first 20 minutes, which put us a little behind.
"The third quarter was crucial for us to get back on the field, but all the Springboks did was bite the bullet and get some penalties. That was their game, it was a pressure game.
"You saw as the game unfolded the opportunities did start to arise, it was just some handling errors. I think we made some progress [forward], but we have to prove it next week. "
All Blacks captain Sam Kane said: "The Springboks threw a lot at us and we absorbed it well, but we consumed a lot. They kept putting pressure on them, especially when they collapsed, and it broke a lot. our traffic.
"We're very disappointed, it really hurts. We have to do better in terms of glitches and competencies [in the air]. In terms of belief and effort, I can't ask any more from the team. Just a small profit at this level. "